Groundbreaking Start to Cooperation on Military Justice and Human Rights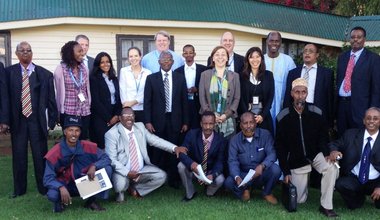 Judges from Mogadishu's military court came together with representatives from the international community in a milestone roundtable meeting held in Nairobi to open dialogue for better understanding of military justice.
Organised by the UNPOS Human Rights Unit, this meeting identified where donor and UN support can help strengthen human rights compliance in military justice. The meeting, attended by ten out of sixteen military judges in Mogadishu, paves the way for assessment and review of the military justice system.
The military court plays a vital role to fight impunity during the armed conflict taking place in Somalia, as the ordinary justice system has been unable to address crimes committed by organized armed groups. It is a highly dangerous job for any court or judge adjudicating such cases under constant security threat.
During the roundtable, the President of the Court General Hassan Mohamed Hussein boldly stated: "the culture of impunity in Somalia has ended," and asserted that the military court was very active.
Discussion also highlighted the fact that the Somali military justice system permits the investigation and prosecution of all armed groups, including Al-Shabaab. However, under international law, terrorist groups such as the Al- Shabaab are tried in civilian courts.
Experts presenting on human rights and international humanitarian law raised the issue of fair trial standards, amnesty and the conditions of detention of disengaged fighters. These were agreed on as key entry points for future technical assistance. Kenyan and the Democratic Republic of Congo military law reforms presented by experts from the region identified potential strategies and best practices for UN support to the Somali military justice operations and reform.
In his opening remarks, the Deputy Special Representative of the Secretary General for Somalia, Peter de Clerq stated: "It is not a secret that the internal conflict has had a devastating impact on the people of Somalia, and her institutions, including the courts. If military justice were not reinforced, there might not be a way to deal with impunity with respect to the crimes committed by the uniformed service or the illegal armed groups."
The roundtable meeting concluded with all parties agreeing to start working together on a strategy for technical cooperation which would include independence of the justice system, the gradual shift to the civilian jurisdiction of cases of armed civilians, and legal reform of military laws.
Plans for strengthening the capacity of military courts contemporaneously with the ordinary system of justice would also be included.
President of the Court General Hassan Mohamed Hussein concluded: "Apart from the written law, it is also in the Somali culture to respect mankind. So in a nutshell, our eyes and ears are open to advice coming from the international community".