UNPOS Background in Somalia
The Secretary-General established the United Nations Political Office for Somalia (UNPOS) on 15 April 1995, to help advance peace and reconciliation in Somalia.
UNPOS is a special political mission, supported and overseen by the United Nations Department of Political Affairs (DPA). The head of the office is the Special Representative of the Secretary-General (SRSG) who closely monitors the situation in and relating to Somalia. The SRSG provides the Secretary-General with periodic briefings and written reports to the Security Council.  UNPOS also provides political guidance, as needed, to the UN Resident and Humanitarian Coordinator of the UN Agencies and organisations of the ;UN Country Team for Somalia.
UNPOS has supported various initiatives aimed at promoting peace and national reconciliation in Somalia, including efforts by the Government of Djibouti that led to the formation of the Transitional National Government (TNG) of Somalia in 2000. From 2002 to 2004, UNPOS supported the Somali National Reconciliation Conference under the auspices of the Intergovernmental Authority on Development (IGAD), resulting in the formation of the Transitional Federal Government (TFG). After joining ranks with the former Alliance for the Re-liberation of Somalia (ARS) in late 2008, under the Djibouti Agreement, the TFG relocated to Somalia in February 2009. The mandate of the TFG ended with the election of a new President on 10 September 2012. This followed the adoption by the National Constituent Assembly, on 1 August, of a Provisional Constitution and the subsequent selection of Members of the new Federal Parliament of Somalia. 
Returning to Somalia
 In light of progress in the political process, UNPOS is preparing for an expansion of its activities in Somalia. In endorsing those plans, the Security Council authorized UNPOS:
to promote reconciliation through dialogue between Somali parties;
to assist efforts to address the "Somaliland" issue; to coordinate support for the peace process by Somalia's neighbors and other international partners; and
to play a leading political role in peace-building activities. SRSG Mahiga, head of UNPOS, addresses troops and officers from the African Union Mission in Somalia (AMISOM) following his arrival in Mogadishu.
On 24 January 2012, following major advances in security in Mogadishu, the Office of the SRSG formally moved back to Mogadishu after a 17-year absence. Over ten international staff members of UNPOS are currently stationed in Mogadishu, on permanent deployment. Additional personnel continue to deploy, incrementally, as and when accommodation and other facilities become available. 
UNPOS is now consulting regional and international partners, including the UN family, as part of a strategic review of its mission which is aimed at determining the form of the future presence of the UN in Somalia. 
Meanwhile, UNPOS is working closely with the Federal Government of Somalia and its partners towards the implementation of the Government's 'Six Pillar Policy'.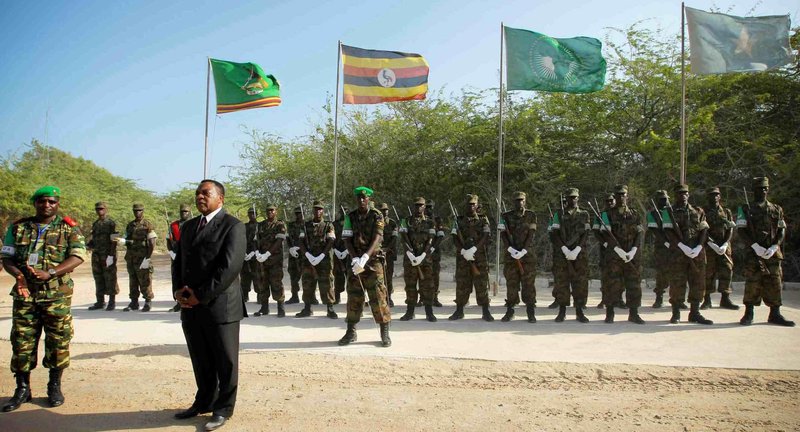 SRSG Mahiga, head of UNPOS, addresses troops and officers from the African Union Mission in Somalia (AMISOM) following his arrival in Mogadishu.
UN Photo/Stuart Price 

Adopted_Constitution_ENG_Final for Printing_19SEPT12.pdf